Facebook Timelime for Your Business
Q: What is Facebook Timeline?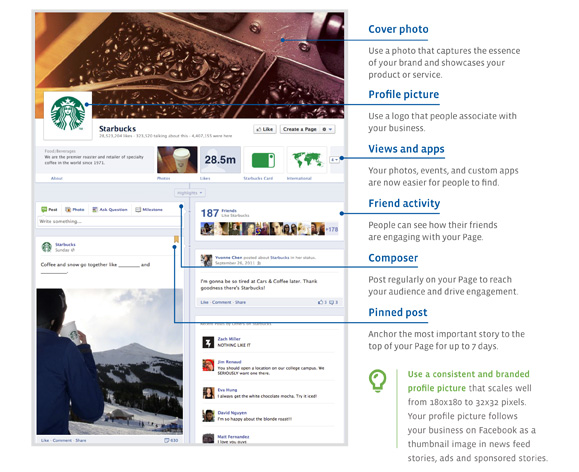 A: Mission control for your business on Facebook
Timeline is an evolution of Facebook's pages that replaces the Profile and Wall pages, and merges them together. It shows the story of your company, as you choose to tell it, in a visual, scrolling, reverse-chronologically ordered timeline. It's a cross between visual blog and online scrapbook. Read below for a list of features that comes with this new format.
Fan Pages
Fan Pages are the essential place on Facebook for businesses to build connections with people. It's where you connect with fans by announcing new products, sharing news, and gathering feedback. Your Fan Page is also where you create unique brand content that can become ads and sponsored stories. It's the core place for businesses to manage their posting and advertising content.
The new Timeline Pages allow you to:
Express your identity with features like cover photo and Page timeline.
Reach and engage your audience on the web and on mobile.
Respond to people in a quick, more personal way.
TELL ME MORE ABOUT FACEBOOK TIMELINE