5 Innovative Uses for iPads in Business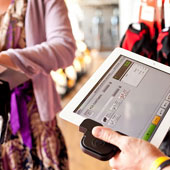 The iPad revolution has already transformed many people's digital organization skills and satiates the need to quickly look up information at moment's notice. As we roll into the third year, we can't help but notice the tablet's acceptance into the business world. These innovations can be seen anywhere from the retail floor all the way up to the boardroom. Check out how some companies are integrating these technologies into their businesses.
Personal Digital Assistant
This is definitely the great-grand son of the PDAs from our pasts. These lightweight, internet connected devices follow us everywhere we go, without forgetting to remind us of where and what we need to do next. Be sure to take advantage of services like Apple's iCloud or Google Apps to store all your emails, contacts calendars and documents in the cloud. It may seem like a gift by getting iPads for your entire staff, but think about the cost of shutting down your entire company just to sit around a table. If video conferencing and having voice dictation notes automatically recording both text and audio is the conference room of the future, then the future is today. And it is pretty nifty!
Point of Sales (POS) Register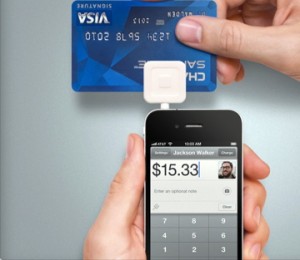 Bringing the register to the client, now that's customer service! Also think of all the time spent on training someone on how to use those colored number pads, or archaic DOS programs just to ring up a sale.
The easiest way is to attach a card swipe directly to your iPad (or smartphone). Providers such as SquareUp, Intuit's GoPayment, VeriFone's Payware, and PayPal's recently announced PayPal Here make it easy to use your iPad as a POS. They even go beyond most POS systems by including emailed invoices, sales reporting and the capability for the purchaser to add a tip or donation if it's applicable.
Remote Computer and File Access
Log into your Mac or PC quickly with full screen controls by using a services like LogMeIn or VNC. While both of these offer very similar capabilities, the VNC takes a little bit more effort to setup initially, where as LogMeIn comes with a small monthly fee for the super easy configurations and additional features. The VNC route provides you with a lot of different options, and is completely free if you are even just slightly technically inclined.
This will get you into the front door, but if you want to go deeper you should also add on a file management service like iCloud, DropBox, or SugarSync . Most of these come with a free or at least trial account, and will automatically sync your documents, photos, and business assets in the cloud. This makes sharing files within the company extremely easy, and reduces all those cluttered folders on your desktop that you will never get around to sorting.
 Sales Catalog, Portfolio or Service Offerings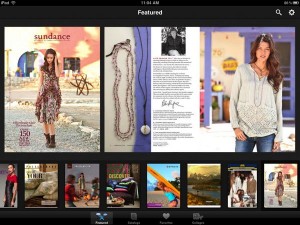 Unless you can speak as fast as that man from the Micro Machines commercials in the 80s, you probably won't be nearly as effective as your iPad on this one. Even if you are not available to help a customer or client, you can affix your tablet on display for them to browse or find exactly what they are looking for by the time you return. You can also just as easily wrap this nicely in an app for distribution, which will let people share their favorite products, photos or content and grow your exposure with their sphere of influence.
This is where beautiful photography pays off with the iPad's crisp, colorful screen. You can quickly showcase your full product lines, examples of your work and even scroll through user reviews and testimonials with your fingertips.
Taking Inventory and Collecting Data
This is applicable for just about every business out there, and is one of the most tedious tasks to boot. We've used it at every event we attend to collect emails for our newsletter with great success. It seems people still like to communicate (even if just one-way) with people they have met face-to-face. But you don't have to limit yourself just to personal information, you can have surveys for feedback, giveaways at tradeshows and even get fancy wih qr codes so they can take the information with them when they go. The limited camera quality still hasn't made it the ultimate inventory system, but there are still some great options for managing your inventory through barcodes and SKUs.
Let us know if you have any business ideas for using the iPad in your workplace.